Hose shop overview
Our Eaton Aerospace and CAA approved hose shop has been manufacturing aircraft hose assemblies for over 30 years.
We have the ability to manufacture a large range of  "Aeroquip™" branded hose assemblies around the clock for virtually any aircraft from the light fix wing and helicopters to the heavy wide bodied airlines and military jets.
Our engineers and dedicated sales team with years of experience and technical knowledge are serving the worlds fleet of aircraft and ready to support your requirements.
Hose shop capabilities:
Manufacture High and Medium pressure PTFE (Teflon™) hose assemblies for Hydraulic, Fuel, Lubrication, Air, Oxygen and Water applications
Manufacture High, Medium and Low pressure rubber/  hose assemblies for Hydraulic, Fuel, Lubrication and Air applications
Testing and Repair of a wide range of hose assemblies with EASA 145 release.
Pressure testing (Water, Phosphate Ester Hydraulic Fluid (Skydrol™) or Nitrogen)
Burst testing (up to 50,000 psi)
Nitrogen underwater leak testing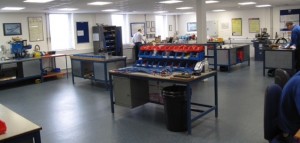 We have structured our production team so we can respond to AOG requests immediately, in most cases an AOG hose order can be manufactured and shipped within one hour, 24 hours a day, 7 days a week.
For  details of the basic hose product families we support, please click on either the links below or in the "Related information" section on the right of this page.
For further information, please contact our Eaton (Aeroquip) sales team.