Ultra Electronics Official Distributor
17th September 2015
Saywell International signs exclusive global distribution agreement with Ultra-Electronics Air and Land Systems.
Saywell International are the exclusive global support on a range of specific product such as Switches, Magnetic Indicators, Terminal Blocks, Covers, Links and Adaptors etc over various Aircraft Platforms.
Including:
Bae Systems Hawk

Agusta Westland AW01, Lynx, Sea King
CASA CN-235, C-101
Kawasaki C-1
Bombardier Global Express
Currently we are in the process of formulating our stock holding to insure "off the shelf" service on the most frequently used components.
Saywell International signed this landmark agreement at the DSEI 2015, Exel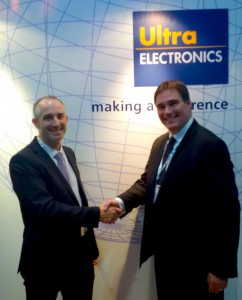 Pictured Mike Clayton MD Ultra-Electronics Precision Air and Land Systems with Saywell Director Russell Tudor.